Work-from-Here: Six Resorts Offering 'Staycation' Packages for Extended Stay Guests
by Daniel McCarthy /

The world, with COVID-19, has seemingly gone fully virtual. Work-from-home and Zoom learning are now the norm, bringing new challenges and opportunities to consumers around the world. And the travel industry, just like almost every other industry in the world, is now trying to seize those new opportunities.
With everything online, working and schooling can be done from anywhere and resorts, most of which are once again open, are now not only trying to attract guests who want to use their vacation time, but are opening up their doors—and marketing—to a whole new population of virtual work and learn guests.
This week, TMR asked travel advisors for some options for guests looking for those kind of extended stays. Here's what they said: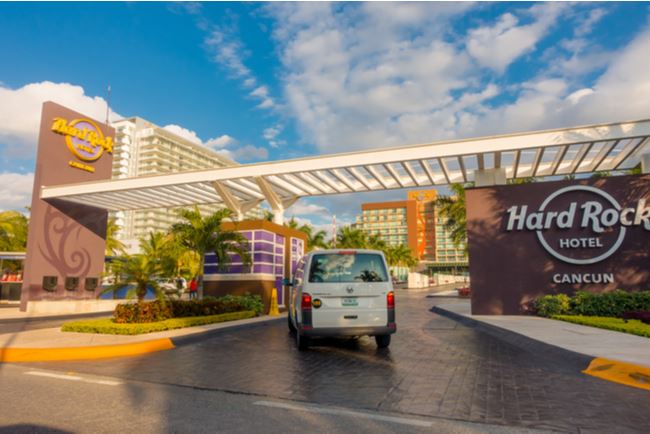 Hard Rock Hotel Cancun. Photo: Shutterstock.com.
Hard Rock Hotel—Cancun, Mexico
Travel advisors talking to TMR recently have all remarked that Mexico, and Cancun in particular, has had a renaissance recently because of COVID-19 restrictions placed on a lot of other international destinations.
To accommodate those looking for a longer stay, Hard Rock Hotel Cancun, an all-inclusive resort, is offering free WiFi, tech support, and more as part of its "Office with a View" offer. Each room offers guests sanitized working stations along with free long distance, and an expanded in-room dining menu, along with dedicated conference room and office space.
For the kids, Hard Rock is also offering "School Hard" amenities that include a dedicated online classroom with tech support, after school care activities, a bottled water station, and organized sports training for kids who still want to get some physical activity outside of their Zoom-gym classes.

Kingsmill Resort. Photo: Kingsmill.
Kingsmill Resort—Williamsburg, Va.
Kingsmill Resort, which reopened on May 15 following its COVID-19 closure, is also offering extended stays to guests looking for something closer-to-home.
The resort, located on the James River about an hour from Richmond, is offering daily, weekly, and monthly rates to guests, with condos ranging from one to three-bedrooms. Each condo comes with WiFi, a desk, dining table, living room, full kitchen, washer, dryer, and business services like printing, notary, private conference rooms, shipping stations, and more.
The resort also includes pet rooms so families can bring up to two dogs or cats with them during their stay. There's also a golf course and tennis courts on site.

A suite at Hyatt Ziva Cancun. Photo: Hyatt.
Hyatt Ziva Cancun—Cancun, Mexico
Another Cancun resort, the Hyatt Ziva Cancun is trying to attract extended stay guests with its "Work & Learn from Paradise" promotion.
The special rate, which starts at $129 per person, per night, includes dedicated, shared office space with high-speed WiFi, onsite tech support, complimentary laundry service, private cabana access on the weekends, three personal training sessions per week, and more.
The resort is also offering its own learning classes—those looking to get the most out of their extended stay can take conversational Spanish classes with bilingual instructors (also offering at Hyatt's Dominican Republic resort).

ClubMed Sandpiper Bay. Photo: ClubMed.
ClubMed Sandpiper Bay—Port St. Lucie, Fla.
ClubMed Sandpiper Bay, located in Port St. Lucie, Fla. a little under two hours north of Ft. Lauderdale and just about two hours south of Orlando, is also trying to attract the staycation crowd with a "Workation" offer.
The resort is offering amenities for both adults and kids through Dec. 19, 2020 for as little as $20 per person, per day. The amenities for adults include dedicated workspaces with WiFI, IT support, printing stations, and coffee breaks with snacks.
For kids, ClubMed is offering dedicated classrooms with WiFi along with the use of noise cancelling headsets and staff onsite to assure that students are attending their classes and getting work done.

Aria Las Vegas. Photo: Shutterstock.com.
MGM Resorts—Las Vegas, Nev.
MGM Resorts is offering a "Viva Las Office" package for extended stay guests at both the Bellagio and Aria.
MGM rolled out the package in August, giving guests a flexible check-in and check-out times and a dedicated executive assistant who will handle their staycation experience, including dinner reservations and Vegas attraction bookings.
The package, which requires a minimum three-night stay and starts at $100 per night, is offered in three different tiers—the Associate, the Manager, and the Executive. Each stay offer a food and beverage credit ($50 per night for the Associate and Manager and $75 for the Executive package) and a discount on round-trip flights with hop-on jet service JSX ($75, $100, and $125 depending on the tier).
Higher-tiered packages will get guests better rooms, with the Executive tier guaranteeing guests a Bellagio Salone Suite or ARIA City Corner Suite.

Grand Velas Los Cabos. Photo: Grand Velas.
Grand Velas Los Cabos—Los Cabos, Mexico
Grand Velas Los Cabos is also trying to attract extended stay guests with its long-stays program that offers private offices, an exclusive beach and pool area, a 24-hour personal concierge, and more.
The resort is offering two packages for those guests. One, for adults called Moments for Two, requires a 14-night stay and the other, called Family Time, requires a 10-night stay.
The adult package includes a private beachfront dinner, private spaces for work and business, two massages, a personalized exercise routine, and a photo-shoot. The family package includes a suite with a private bar, private dining areas in the resort's restaurants, a photo-shoot, personalized t-shirts, WiFi, and two personalized family classes for some on-site learning.
The resort was most recently named the number one luxury hotel in Mexico and the number eight luxury hotel in the world by TripAdvisor in its 2020 Travelers' Choice Awards.