Holland America Westerdam Guest Tests Positive for Coronavirus, Malaysian Officials Say
by Daniel McCarthy /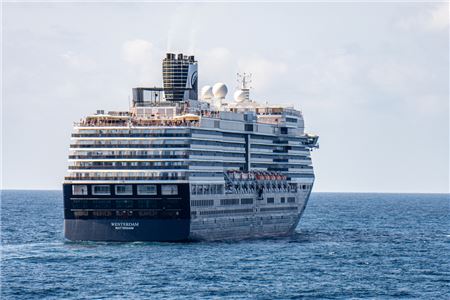 Update 2/17
Westerdam remains in Sihanoukville, Cambodia, with Cambodian Health Ministry offical onboard testing crew and guests for coronavirus.
According to Holland America, the first batch of 406 samples have all returned negative and guests who have been cleared can return home, with Holland America helping with travel arrangements.
The guest who tested positive in Malaysia is currently in stable condition.
"We are in close coordination with some of the leading health experts from around the world," said Dr. Grant Tarling, Chief Medical Officer for Holland America Line. "These experts are working with the appropriate national health authorities to investigate and follow-up with any individuals who may have come in contact with the guest."
Published 2/16
The Health Ministry of Malaysia announced today that one American who had departed Holland America's Westerdam for Malaysia on Friday has tested positive for coronavirus.
According to a statement Malaysian health authorities made to Reuters, an 83-year-old woman, making her way back to the U.S. through Malaysia with other passengers, was discovered to have "symptoms" during screenings at the airport. After further tests, the woman tested positive for coronavirus while her 85-year-old husband tested negative.
The news is still preliminary, according to Holland America, who said it is still waiting on secondary confirmation to confirm the positive test.
The couple were two of 1,455 passengers onboard Westerdam who were finally allowed to disembark on Friday after the ship was denied entry from a number of ports because of coronavirus concerns. The passengers were only able to disembark in Cambodia after Cambodian officials got onboard and tested samples from guests who were showing symptoms.
According to a statement, twenty samples taken onboard were all initially confirmed as negative for coronavirus by the Pasteur Laboratory in Phnom Penh. Passengers onboard were only then able to start making their way home with the help from a charter flight schedule created by Holland America.
Holland America said in a statement that it is still "working with officials in Malaysia, Cambodia, and the U.S. CDC" to get secondary results for confirmation and that not one person onboard had an elevated temperature, one of the symptoms of infection.
"Disembarking guests also completed a written health questionnaire and the passports of everyone on board were reviewed to ensure no one had traveled through mainland China in the prior 14 days. During the voyage there was no indication of Covid-19 on the ship," Holland America's statement reads.
Right now, the ship remains in Sihanoukville, Cambodia, with 236 guests and 747 crew members still onboard. The rest of the guests have already departed Cambodia via charter flights to Phnom Penh on Friday and "are in various stages of transit home."