Carnival Cruise Line Launches AirShip Marketing Campaign Called 'Homeport Advantage'
by Daniel McCarthy /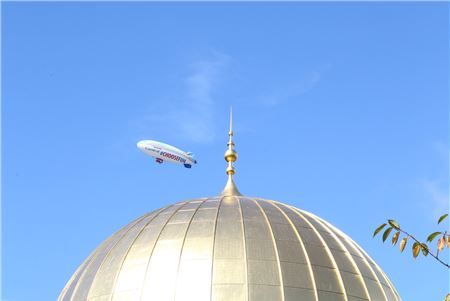 Carnival Cruise Line has officially launched its new "Homeport Advantage" marketing campaign as the cruise line looks to promote some of its new domestic ship deployment at ports along the Atlantic and Gulf Coasts.
The campaign features a 128-foot-long red, white, and blue blimp, called an AirShip, which will fly over seven U.S. states over the next 30 days. The AirShip departed Memphis yesterday and will now head to Galveston, New Orleans, Mobile, Tampa, Miami, Fort Lauderdale, Port Canaveral, Jacksonville, Charleston, and Atlanta.
Those ports include Carnival Horizon's new home in Miami, Carnival Vista's new home in Galveston, Carnival Breeze's new homeport in Port Canaveral, and Carnival Magic's new base in Miami.
Anyone getting a photo or video of the AirShip as it makes its way across the country can win prizes like Carnival gift cards and free cruises by snapping by uploading the photo to Facebook, Instagram, or Twitter with the #ChooseFun hashtag. Each submission will also mean another donation to St. Jude Children's Hospital.
"Carnival is America's Cruise Line and what better way to showcase our new offerings in popular homeports like Galveston, Port Canaveral and Miami than with our very own AirShip that highlights our #ChooseFun tagline while supporting the special kids at St. Jude Children's Research Hospital," said Christine Duffy, president of Carnival Cruise Line.