River Cruise Lines Reroute Upcoming Sailings After Netherlands Adds Mandatory Quarantine
by Jessica Montevago /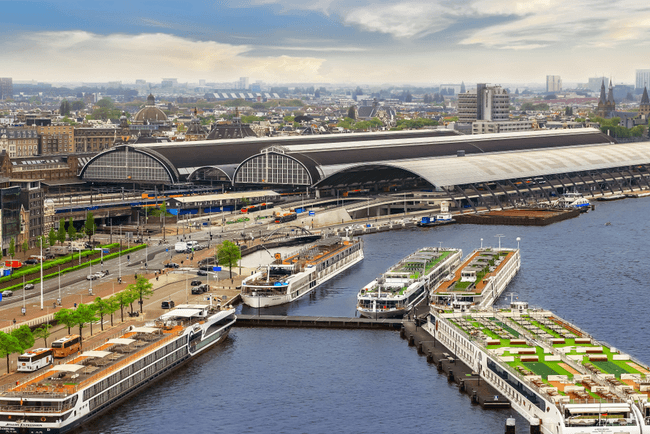 The Netherlands government sent shockwaves across the travel industry, announcing that it will require vaccinated Americans to quarantine for 10-days just as European river cruises and tours got underway for the fall season.
The decision means river lines offering Rhine River cruises, which begin in Amsterdam, will either have to get passengers out of the country to start the cruise from another port or ensure that the cruise leaves Amsterdam within 12 hours—the window given before the new travel guidelines take effect.
Uniworld's River Duchess will depart the Netherlands on embarkation day, Wednesday, September 8. Details of the new itinerary are being finalized now and while we regret having to alter plans, our staff onboard and onshore are committed to ensuring Uniworld guests a seamless and memorable journey.
"Last-minute changes in the current travel environment are no longer unusual," said Uniworld President and CEO Ellen Bettridge in a statement to Travel Market Report. "While the sudden regulations instituted by the government of the Netherlands have presented a challenge to vaccinated guests from countries including the US - who can now only stay in a destination for up to 12 hours, we're adapting but will not disappoint further by canceling sailings."
Pam Hoffee, managing director of Avalon Waterways, said that for cruises that include the Netherlands, the line has adjusted itineraries to accommodate the requirement of limiting visitors' stay in the Netherlands to 12 hours.
"We are contacting all affected guests to alert them of minor itinerary modifications prior to departure and look forward to delivering them an incredible river cruise vacation through the heart of Europe's storybook settings," Hoffee said.
To accommodate these changes, AmaWaterways ships will stay less than 12 hours in the Netherlands so guests qualify for a "short stay exemption" from quarantine and will organize a day tour option from Dusseldorf for those that still want to spend a bit more time in Amsterdam, Kristin Karst, executive vice president and co-founder of AmaWaterways, told TMR.
Certain guests, including those arriving directly from the U.S., need to provide a negative Covid-19 test prior to departure and all guests need to complete the new Quarantine Declaration Form.
For guests finishing their cruise in Amsterdam, Cruise Managers will assist them in filling out the Quarantine Declaration Form before arrival as well as organize the necessary "return home" PCR or Antigen tests for a nominal fee.
Details on the slight adjustments to itineraries and the necessary entry documents are very specific to each departure depending on the ports of call, travel date, and the country from which the traveler is coming from.
"We are providing the updated information and support documents in the emails we are sending to travel advisors and guests affected by these changing entry regulations," Karst said. Due to the short stay exemption, we are not able to offer pre-cruise land stays in the Netherlands at this time. We are prioritizing departures within the next two weeks and are updating our website as new regulations are officially announced Travel Entry Requirements/the Netherlands.
This is a rapidly changing situation that we are monitoring very closely and asking everyone to check back on our website Travel Entry Requirements/the Netherlands for updates as well as check with the airline that they are traveling with."
The Scenic Group, which includes Scenic and Emerald Cruises, is working closely with individual guests to ensure compliance with government requirements in destinations visited. Following the travel updates from the Netherlands Government, Rhine river cruise itineraries have been modified – with cruises departing and concluding in Amsterdam leaving and entering the country within the 12-hour timeframe. Guests have been contacted on a case-by-case basis and where necessary, changes to flight arrival/departure times for guests have been made.
"We were able to react quickly to the news and open our call center over the long Labor Day holiday weekend to ensure we could help guests on our upcoming Rhine sailing," said Maggie Carbonell, VP of Marketing, Scenic Group USA. "We worked with guests who had planned to arrive in Amsterdam early to rebook flights that would comply with the 12-hour window."
The river cruise itinerary thereafter remains unchanged and the Scenic Group is continuing to monitor all travel updates for our guests.