Carnival Corp. Brands Cancel More Sailings, Set New Ship-Specific Return-to-Service Dates
by Dori Saltzman /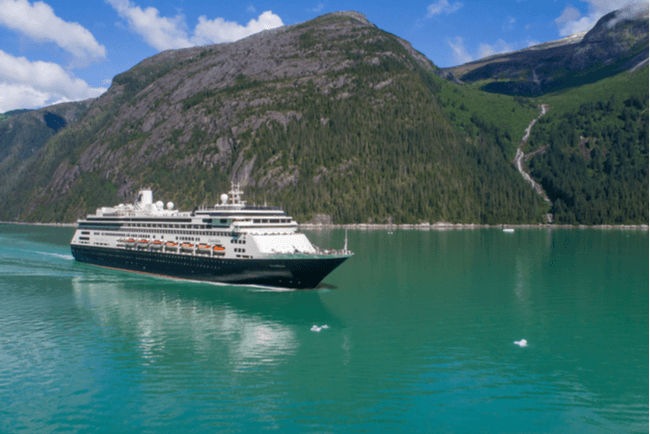 Three Carnival Corp. brands have canceled additional 2021 and 2022 sailings, with Seabourn wiping out its entire slate of previously announced 2021/22 Asia, Arabia, and Australia cruises and Holland America canceling all its 2022 Grand Voyages. All three brands also set new ship-specific return-to-service dates.
Holland America Line
Holland America has canceled its scheduled 2022 Grand World Voyage and Grand South America and Antarctica Voyage onboard Zaandam and Volendam, respectively. Instead, the two ships will return to service in May 2022 with Northern Europe (Volendam) and Canada/New England (Zaandam) itineraries.
"We have been diligently planning and preparing to move our ships back into service, and after an extremely successful restart in Alaska and Europe we are thrilled to have return-to-service dates for Volendam and Zaandam," said Holland America president Gus Antorcha.
Volendam will return to service on May 1, offering longer sailings ranging from 14 to 35 days to the Baltic, Norway up to North Cape and Spitsbergen, the British Isles, and Iceland. All sailings will be roundtrip from Rotterdam in the Netherlands.
The ship is also scheduled to sail along the Iberian Peninsula to the Mediterranean and down to Egypt and Israel.
Zaandam will reenter service a bit later, on May 12 in the Canada/New England region. Its first cruise will be from Fort Lauderdale to Boston, followed by sailings between Boston and Montreal. The ship will also offer a 35-day Voyage of the Vikings itinerary in July that sails roundtrip from Boston with stops in Canada, Greenland, Iceland, Norway, the Netherlands, the U.K., and Ireland.
HAL's Grand Voyages
The line's Grand Voyages return in 2023, starting on Jan. 3, 2023 when Zuiderdam sets sail for a 128-day around-the-world itinerary. In total, the itinerary includes visits to 61 ports in 30 countries and island nations, with eight overnight calls.
Volendam will also depart January 3, 2023, on the line's 74-day Grand South America and Antarctica Voyage. The itinerary includes visits to 34 ports in 16 countries and island nations, including five overnight calls and 11 calls in Brazil. Highlights include four days of Antarctica scenic cruising and a journey along the Amazon River to Manaus.
Guests booked on the 2022 Grand World Voyage aboard Zaandam will be automatically moved to the 2023 Grand World Voyage on Zuiderdam. Those who were booked on the 2022 Grand South America and Antarctica Voyage will be automatically moved to the 2023 sailing on Volendam.
Guests booked on the canceled Grand Voyages can also opt for a full refund by visiting the Cancellation Preferences Form and indicating their preference by Sept. 24, 2021.
"Our 2022 Grand World Voyage booked in record time, and with the pent-up demand to get back to world cruising we moved the cruise to Zuiderdam," Antorcha said. "For the first time on a Grand World Voyage our guests will be able to book a verandah stateroom category, which makes for spectacular scenic cruising, breakfast with a view, or relaxing outside without leaving your stateroom."
Eurodam, Koningsdam, Nieuw Amsterdam, Nieuw Statendam, Rotterdam and Zuiderdam are either already back in service or will be by November 2021.
Princess Cruises
Princess Cruises has canceled its 2021/22 South America & Antarctica program on Diamond Princess, along with its 2022 World Cruise and two December 2021 Island Princess cruises.
sailings onboard Island Princess and Diamond Princess and set new return-to-sailing dates for the ships.
Island Princess will return to service on April 27, 2022, with a 14-ay Panama Canal Ocean to Ocean itinerary, followed by a series of Caribbean cruises.
Diamond Princess will also return to service in spring 2022 with a season of Japan sailings.
"Following our successful restart in Alaska and the UK, we look forward to welcoming our guests back on board as we continue our return to cruise operations, keeping the health and safety of our guests and teammate our top priority," said Princess Cruises present Jan Swartz.
Majestic Princess, Grand Princess, Ruby Princess, Enchanted Princess, Sky Princess, Regal Princess, Caribbean Princess, and Emerald Princess are either already back in service or will be by November 28, 2021.
Guests booked on one of the canceled cruises can choose to be moved to an equivalent future sailing (with their 2021/22 fare locked in). Alternatively, guests can choose a future cruise credit (FCC) equivalent to 100% of the cruise fare paid or a full refund. Requests must be received through this online form by Sept. 30, 2021, or guests will be automatically moved to a default alternate sailing. FCCs can be used on any cruises booked by and sailing by December 31, 2022.
Princess is protecting all commissions on bookings that were paid in full.
Seabourn
Citing "the current environment and travel restrictions," Seabourn has canceled most departures on Seabourn Encore and Seabourn Ovation between September 1, 2021, and April 26, 2022 voyages including all 2021/22 Asia, Arabia, and Australia cruises.
The line has set new 2022 restart dates for ships that aren't yet sailing. Seabourn Ovation and Seabourn Odyssey are currently sailing Greek Isles and Caribbean itineraries (respectively).
"We continue to assess the overall global situation so we can make thoughtful, logical decisions about when each of our ships will restart," said Seabourn president Josh Leibowitz. "We know guests are beginning to restart travel on some level in their personal lives and we look forward to seeing them again as soon as possible."
New return to service dates are as follows:
Seabourn Quest: November 7, departing from Miami to begin a season of Antarctica sailings (previously announced)
Seabourn Sojourn: January 11, 2022, departing from Los Angeles on the line's World Cruise
Seabourn Encore: April 17, 2022, departing from Athens, Greece
Guests and travel advisors with impacted sailings will receive information on rebooking, alternative sailing date options, opportunities for bonus future cruise credits and full refunds. Specific offers and details vary by itinerary.